By Al Zehnder, CEO of Zehnder's of Frankenmuth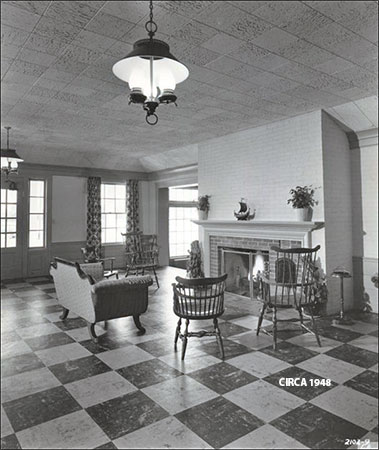 Our 1948 addition, essentially the north wing of our restaurant, provided increased lobby and dining space, our Tap Room and expanded restrooms.
I have to believe the goal for our lobby was to create a warm, comfortable home-like atmosphere complete with wing chairs, sofas, daily newspapers and of course a TV. The centerpiece of that space is a real wood burning fireplace. Beginning in late fall through about March, we burn about 30 cords of wood. The wing chairs nearest the fireplace are nearly always occupied as guests warm up from the cold winter weather. It's not unusual for some to doze off and catch a quick nap. Stoking the fire is a great way for me to greet guests personally, many remarking how nice it is to sit by a real fire.
If your winter travels take you to Frankenmuth, stop in and warm up by the fireplace. Have a seat, relax, grab a beverage from the Tap Room, watch some TV; maybe catch a quick nap.
You're always welcome, you have my name on it!
Hospitably yours,
Al Zehnder, CEO